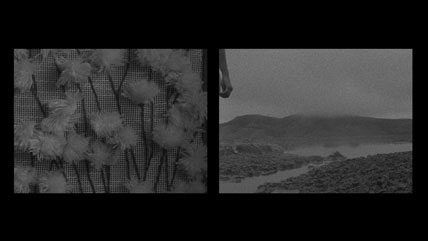 Time Like Water
16mm on video (shot on 16mm, end on video) / 7min 9sec / 2013



Shot on 16mm film over the course of three years, this film documents various hiking trips taken alone in the highlands of my native country Iceland. When one is all by oneself out in the mountains, witches circles come out of the moss and time becomes water.



Thorbjorg Jonsdottir is a visual artist and experimental filmmaker from Iceland. She graduated with a MFA in filmmaking from the Program in Film & Video at California Institute of the Arts in 2009 and holds a BA degree in visual arts from the Iceland Academy of Arts.
Thorbjorg works primarily in 16mm film, video installation and collage. Her work often deals with the uncanny and the preternatural, and uses landscapes as a metaphor for entrances to other worlds. She is particularly interested in mythology and folklore where the supernatural and the natural collide. Different manifestations of nature often play an important role in her work, and through observing her surroundings she explores the boundaries of individual and personal space, versus the open spaces of nature, which belongs to no one.
Thorbjorg's films have screened both in galleries and the film festival circuit, in Europe and the US.  Thorbjorg currently lives and works in Los Angeles, California and Reykjavik, Iceland.