BOGNA M. KONIOR & YVETTE GRANATA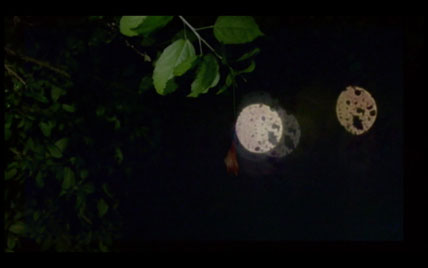 Philosophy-in-the-wild: Sorcery Means
7min 27sec/ 2016



Sorcery Means is an aural spell, a sensory apocrypha inspired both by the practice of yee-weheri employed by jaguar shamans of the Amazon, and the Laruelle/Schmid non-standard method of philosophy. It is an immanent, material, and digital spell that re-wilds philosophy as it unveils alongside our movements in the darkness on Lamma island in Hong Kong. By means of voice modulation, philo-fiction, and predatory treatment of field recordings we aim to discover what sorcery means, and what is the craft of witchcraft. Instead of speculation, we chose a realist practice of unveiling thought by digital means alongside the darkness of the island. Just like jaguar shamans project themselves into the bodies of their human victims through a pathogenic object, we use our LED lamps, recording devices, and cameras to project ourselves into the body of the island like parasitic predators, unearthing from its ground a wild philosophy. We seek to initiate a material re-activation of philosophy buried in the wet soil of the island, providing for its use our vocal cords in a voluntary possession. Aiming to develop a new framework by means of sorcery, we elaborate on Laruelle's assertion that "all philosophers are children who are afraid of the dark," conceding that non-philosophers must materialize the immanent darkness free of representation, yet laden with invention, in which all thought is rooted. Only with eyes closed can we unfold the future.
Sorcercy Means is part of a bigger multi-media and multi-platform non-philosophy project, Philosophy-in-the-wild, devoted to re-wilding the operations of philosophy beyond its institutional limitations.



Bogna M. Konior writes, performs, investigates, makes things, and curates. From inter-species witchcraft to activist arts, her research / practice is cross-disciplinary but always in the service of anthrodecentric politics. She has organized and worked at a variety of film festivals internationally, including the Five Flavours Asian Film Festival in Warsaw and the ReVersed Poetry Film Festival in Amsterdam. She worked as a copywriter at the artificial heart project at the Zbigniew Religa's Cardiac Surgery Development Foundation. Her writing has been recently featured in the poetry anthology Sisternhood, and her Anthropocene manifesto, 13, was performed in Hong Kong and exhibited in Sydney. She heads the Institute for Critical Animal Studies, Asia and is a founding member of New Materialism Society, Hong Kong.

Yvette Granata is a media artist, film designer, and a scholar. Her media artwork has been exhibited at the Harvard Carpenter Center for the Arts, The Eye Film Institute in Amsterdam, Film Anthology Archives in New York, The Kunsthalle of Light and Media Art in Detroit, Videoarte Festival in Camaguey, Cuba, and Hallwalls Contemporary Arts Center in Buffalo, NY, among others. Her film design work has appeared on screens at the Sundance film festival, Tribeca film festival, Rotterdam, Cannes, Berlinale, the Rome International Film Fest, SXSW, and CPH:PIX.