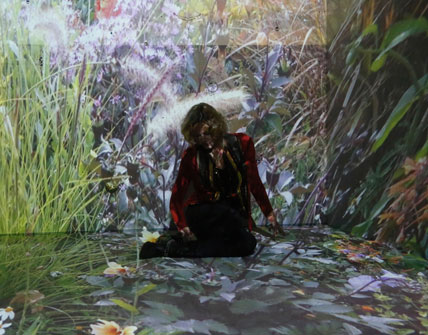 I COULD BE YOUR MIRROR
video installation / 2016



A mix of two video pieces collated into a single multi-channel video installation. The first video, recorded in the spring of 2013 as part of a poetry/video recording, mirrors the blue sky and the newly green grass. The video brings forth questions such as "Is this the parallel universe? Are these parallel minds? I could be your mirror." The work hints at two realities coexisting at the same time, and insinuates that a loved one could be your mirror. The second video was filmed in Paris in the autumn of 2015. Gems hung on the wall glitter in the light of the projection of the Paris flowers. The mirror searches for the treasure within the flowers, about to fade away into winter sleep.



Ásdís Sif Gunnarsdóttir, born in Madison, Wisconsin, USA, lives and works in Reykjavík, Iceland. Gunnarsdóttir studied at UCLA in Los Angeles and at the School of Visual Arts in New York. Ásdís is known for her performances and video installations that experiment with the dimensionality of the projected medium and visual psychedelic poetry, treating videos as songs. Her work spans large video installations and performances as well as spoken word poetry and photography. Solo projects include: Misty Rain, Hverfisgallerí, Reykjavík (2015); Berlinale, Forum Expanded, HAU 1 (2010); No soul for sale, Tate Gallery (2010); Burning orange fire, Kling and Bang gallery (2008). Selected group shows: Surrounded by the Purest Blue, Centre Pompidou, Paris (2014); The five lo fi, in collaboration with E.S.P. TV, Reykjavik Art Festival (2014); The blue mountain, Ephemeropterae at TBA21, Vienna (2013), and many others.