The previous three years Skogul Gondul has introduced video art from the Norwegian scene to the PGN audience. The 4th edition will manifest itself as a group show including painting, kinetic sculpture, video and a growing stalactite. Participating artists: Stine Wexelsen Goks°yr, Ayatgali Tuleubek, Pablo Castro, Kristian Castro, Petter Ballo, Herman Mbamba, Andrea Bakketun, Christian T. Norum and Monica Winther- initiated by Christian Tony Norum and Andrea Bakketun.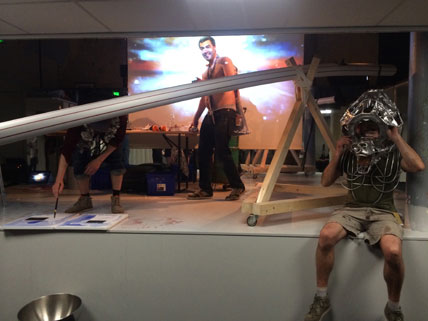 BAKKETUN & NORUM

is an artist duo based in Oslo, founded by Andrea Bakketun (b.1983, Trondheim) and Christian Tony Norum (b. 1980, Oslo) in 2012. The collaboration is shaped by the friction between two oposing, colliding artistic practices and crystallize in multidimentional installations and poetic performances. While Bakketun is searching for magic occurances in studio-processes, during travels and in nature surroundings, using electrical appliances, audiovisuals and text, Norum is digesting art history through expressive labour, be it painting, sculpture or performance.

They intuitively investigate their surroundings,- architectural and physical qualities of a space, as well as the reminiscens of an object, a trace of a personal story or historical event.

Associations and hints are given affectionate attention as they weave together their own truths and narratives. The works of Bakketun & Norum can seem caleidoscopic, as they operate in different time scales and spaces at the same time, and zoom in on the smallest details, while they keep an eye on universal perspectives.

The duo has on several occations collaborated with Petter Ballo, Silje Linge Haaland and other professionals from different fields like music, theatre, falcon training and comedy.


Bakketun & Norum has exhibited and performed at institutions and galleries like the Munch Museum (Oslo), GLStrand (Copenhagen), UKS (Oslo), The Autumn Exhibition at Oslo S (Oslo), Munch's Ekely (Oslo), Kittelsens House/ 1857 (Hvitsten/Oslo) and Oslo Kunstforening (Oslo).

The artists have also exhibited at the House of Artists (Oslo), Autocenter (Berlin), Kunsthaus Essen (Essen), De Brakke Grond (Amsterdam), Manifesta 11- Cabaret Voltaire (Zürich), NoPlace (Oslo), Malmö Konsthall (Malmö), MACRO Museum/ Kaleidoscope Artfair (Roma), MOMA PS1 (New York), Tidens Krav (Oslo), 18th street Art Center (LA) and Gavu Cheb Museum (Praha). Bakketun & Norum has been highly engaged in curatorial practices with projects such as Skogul Gondul (Papay Westray and Cattle Depot Artist Village), Five thousand generations of birds (Fitjar), Hotch Potch (London) and Menneskeberget, Munch's Ekely (Oslo). This is the 5th time the duo participates in Papay Gyro Nights Art Festival.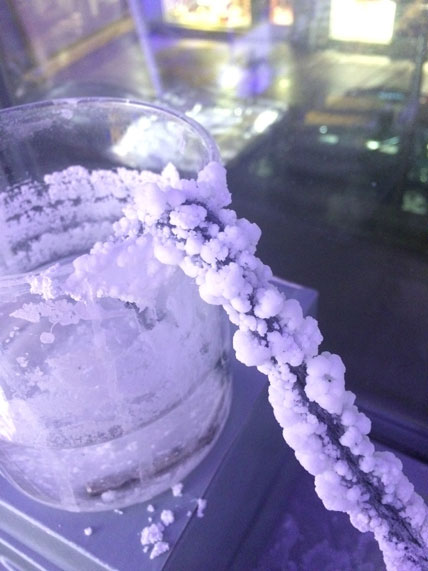 Image captions:

1: Still from the performance Cat, Bear, Fizz from the air, Pablo Castro, Petter Ballo and Christian Tony Norum, Cabaret Voltaire, Manifesta 11, Zürich, 2016

2: Sketch for a stalactite, Andrea Bakketun, 2016
SKOGUL GONDUL EXHBITION :
Ayatgali Tuleumbek
Here be dragons
Digital video, 08:45 min, 2017
Stine Wexelsen Goksøyr
Skin and bones
Digital video, 05:03 min, 2010
Monica Winther med
Magnus Vanebo og
Kenneth Lien
Myrmalm
Recoring of performance, Munchmuseet, 22:39 min, 2016
Christian Tony Norum
Scars of affection
Series of collages, 2017
Herman Mbamba
Acrylics on canvas, 2017
Pablo Castro
Spell #1: Fire
Installation, lasers, 2017
Kristian Castro
Kinetic installation, 2017
Andrea Bakketun
7 day stalactite
NaCl solution, plastic bag, wooden sticks, wool thread, paper and zinc plate, 2017