HARUKA MITANI & MICHAEL LYONS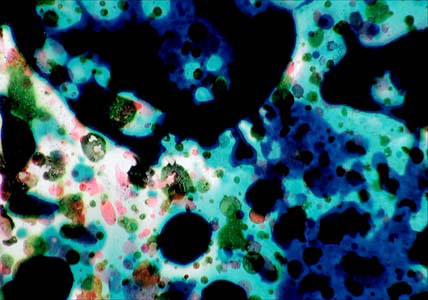 Blue Movement
3m 45s / 2016



"Everything existing in the universe is the fruit of chance and necessity." - Democritus

An optisonic exploration of a world of primordial shapes created through various chemical treatments of a Super 8 emulsion. The sonic counterpart was made using a generative patch on an analogue synth, with voltage inputs from light sensors on the projection screen - the film itself steering the dynamics of sound synthesis.



Haruka Mitani (Japan) is an independent artist based in Kyoto, Japan. She was raised in a traditional Kyoto lacquerware crafts family and received a degree in Image Arts and Sciences from Ritsumeikan University. She also works as in film restoration.

Michael Lyons (Scotland) is an artist and researcher based in Kyoto, Japan. He co-founded the International Conference on New Interfaces for Musical Expression and is active in filmmaking, video, and sound art. He is Professor of Image Arts and Sciences at Ritsumeikan University and currently on sabbatical in Barcelona, as an artist in residence at Hangar.org with an affiliation at Crater Lab.