A Selection of video work by Steina and Woody Vasulka
curated by Kristin Scheving, co-curated by Sigrún Harðardóttir.

Curator´s Statement:
I am one of many to be heavily influenced by Steina and Woody Vasulka in my life as artist and curator. I saw Borealis in ZKM, Karlsruhe in Germany 1996 and I think from then I was hooked. Myself then a visual artist, and student in a quite traditional French Art University, my life totally changed. From there I had more and more connection with Steina and we have worked together on few exhibition and events for the last few years. It was an absolute pleasure to sit down with Sigrún Harðardóttir, artist who also has got a long history with Steina and Woody Vasulka. We decided to select work that spans few decades to show the variety they are working in at many different points in their lives.


Kristín Scheving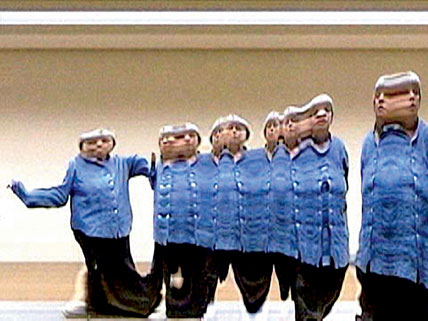 Steina:
1 Distant activities, 72, 4.47min
2 Bad , 79 , 2.09 min
3 Elevator girls, 89, 4.15 min
4 Voice windows, 97, 8.07min
5 Warp, 2000, 4.10
6 Pyrospheres, 2005, 5.56 min


Steina + Woody:
Telc, 74, 5.14 min
In search of the castle, 81, 9.43 min


Woody:
C - Trend, 74, 8:28min
Explanation, 74, 4:16 min
Grazing, 76, 4:35