A screening of works by artists participating in Northern Video Art network, NOVA.
MIND
curated by Juha van Ingen

... Whatever its relation to the physical body it is generally agreed that mind is that which enables a being to have subjective awareness and intentionality towards their environment, to perceive and respond to stimuli with some kind of agency, and to have a consciousness, including thinking and feeling....
Wikipedia


Dodda Maggý (IS)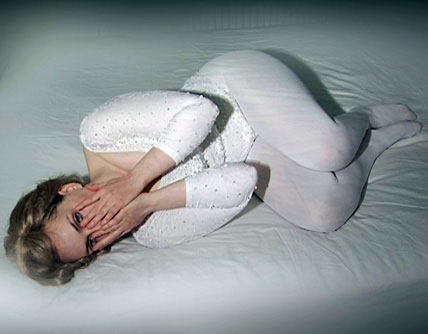 I'm not here", (2009), 4:3, 02:22
The silent video is projected on a white wall, in a day-lit room, the white pallet of the video fading into the surroundings, creating a light, fleeting presence in the space. Instead of working with darkness I wanted the video and the character to fade in actual space. I wanted to make a work that represents the space that is created when I record my performances, the triangle of the performer, the camera and the viewer,
interwoven with the idea of daydreaming or reverie. Performing in front of the camera is a way of encountering myself; the camera's eye reflects my own gaze as if I'm looking in a mirror while the character I portray reflects this gaze onto the viewer. My own presence is strong in my work either physically in the video performance, gazing beyond the screen or as a gaze from behind the camera lens. I play with the viewer's gaze, deliberately placing him in specific viewpoints with the framing and styles of editing.
//// Dodda Maggý b. 1981 is an Icelandic artist, filmmaker and composer based in Reykjavík. While exploring the emotional language of moving images and music mediated through performance Dodda Maggý creates lyrical work portraying invisible or mentally projected elements such as perceptual experiences and altered states of consciousness. Producing audio/visual installations, purely sound based work or silent moving images Dodda Maggý attempts to externalize the internal dimensions of dreams, memories and imagination.

Seppo Renvall (FI)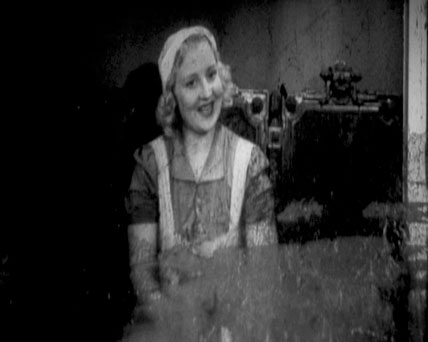 Musta (2012), 4:3, 03:00
A fragment of an old 16 mm film of a woman sitting is re-filmed and hand processed. The resulting film loop acts as an illustration for the song which is performed and composed by Maija Saksman.
//// In Seppo Renvall's works one can sense the spirit of the cinematic liberation movement that in its time inspired filmmakers to establish cooperatives and create a poetics of moving image that defies rules, comes close to life and is rough around the edges. Besides photographs, films and video works, Renvall has also produced happening-type installations and live performances The gruff and twisted beauty of life is reached in Renvall's bohemian rhapsodies through note-keeping of anecdotes from everyday life, rearrangement of material and cinematic manipulations. These skilful manipulations serve to realize mundane addictions, poetic documentations of internal and external worlds, frail moments in technology, and portraits of family, friends and random passers-by, which honour the transient nature of life.
Anders Weberg (SE)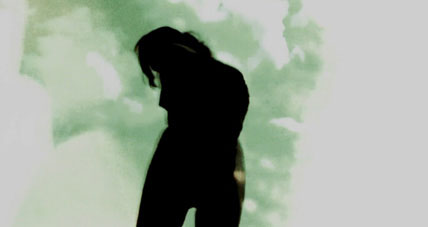 Undisclosed Beauty (2008), 16:9, 03:13
Just because you spit in my eyes does not mean that I have clear vision .. fr. Quoi que vous me crachiez dans les yeux, je ne vois pas clairement ..
//// Anders is an artist working in video, sound, new media and installations and he is primarily concerned with identity. The human body lies at the root of projects that formally and conceptually chart identity and its construction as a preamble to broaching matters of violence, genders, memory, loss or ideology in which personal experiences co-exists with references to popular culture, the media and consumerism. Specializing in digital technologies, he aims to mix genres and ways of expression to explore the potential of audio visual media.
Hulda Rós Gudnadóttir (IS)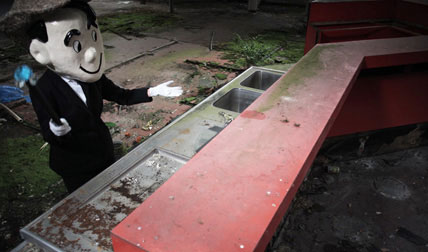 Hops Hopsi (2010), 16:9, 02:52
Screening Version of a 10-channel mixed-media video installation
In Hops Hopsi, Spreepark - the now defunct GDR-era amusement park - becomes a site for the exploration of our collective disillusionment of the restorative potentials of architecture. The GDR, with its mandate to prove socialism's superiority over capitalism, orchestrated grand ideological projects that would showcase its vitality, moral standing, and humanist ambitions. Many of these projects - indeed the project of post-war socialism as a whole - have failed. Today, the Spreepark, with its upturned dinosaurs, overgrown paths, and dilapidated structures, stands as a physical symbol of a failed experiment - a sentiment that finds reverberation in today's failed global economy.
Hops Hopsi reintroduces Spreepark as a site of an allegorical narrative, in which a character, developed for one of Gudnadottir's past works to embody the transcendent powers of the free-market, reappears to symbolize an opposing sentiment - the dream world of socialism past becomes a distorted mirror held to Gudnadottir's native Iceland, itself currently in economic and structural ruin. With a new narrative projected onto it, the park is given a new existence dislodged from other, established historical readings. Perhaps any kind of ideological posturing is really a staging - a system of façade constructions that provide an illusion of mass and substance, easy to destabilize and vulnerable to collapse.
//// I´m interested in the observation and analysis of socio-economic trends and cultural changes and translating my research into multi-layered narratives that are often complex in references, structure and content. In my approach I mix the humorous, performative and the dead serious. I believe the local is the global, the personal is the universal and my works reflect that.
Erik Bünger (SE)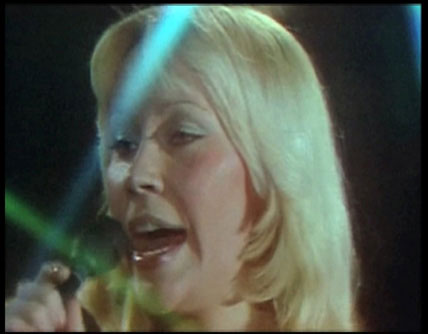 The Third Man (2010), 4:3, 07:00 (excerpt of originally a 50 min. lecture Performance)
As a child my father told me about the movie: In a city somewhere, a man searches for another man. Everyone he meets tells him that his search is in vain, for the other man is already dead, but he refuses to give up and suddenly he believes he catches a glimpse of the other man's face in a doorway. Then dad sat down in front of the piano and in his own tiptoeing kind of way he played 'The Theme from the Third Man'. It made me dream of footsteps echoing in back alleys and a great, green shadow flickering by in the corner of my eye. Every time I heard that melody I had the peculiar feeling of someone observing me from a hidden viewpoint.
//// Erik Bünger is a swedish artist, composer and writer living in Berlin.
Heidi Kilpeläinen aka HK119 (FI)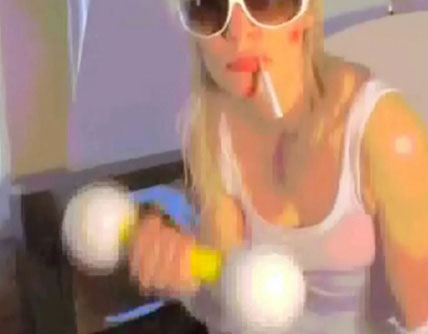 Mind (2008), 4:3, 03:00
A self composed, performed, produced and distributed masterpiece of DIY pop-culture!
//// Heidi Kilpeläinen's work exists as music, performance and video and they draw on fascination with constructivism, trashy pop star fame, cult sci-fi, technology, genetic engineering and the use of music, image and performance as a means of communication. Kilpeläinen produces performances and video works primarily through a hand-crafted, DIY process. She lives and works in London. Kilpeläinen has signed to One Little Indian Records (under name HK 119), the label on which she has so far released 2 albums.
www.northernvideoart.net
VIDEO ART