Bakketun
Untitled (comprehension based on walking sticks, umbrella sticks and disconnected emotions), Installation (5 x 6 m) with kinetic sculptures run by a homemade computer system translating movement data from live walking stick insects, 2008


Bakketun
Installation view. Water colors, instrument mounted on wall, aluminum sculpture with fan, 2012
Norum
Shadow sculpture mounted on painting, 2012

Norum
Live performance with Petter Ballo, Macro museum, Rome, 2012
Bakketun/ Norum
Sound sculpture and wall painting, 2012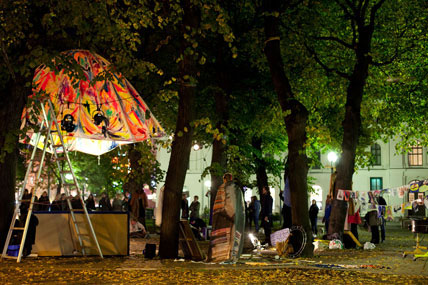 Bakketun/ Norum
Circus Caracas Cerberus, Collaborative performance and installation, The Autum Exhibition, Oslo, 2012
For Papay Gyro Nights Bakketun and Norum will do an outdoor kinetic installation and live performance.
Andrea Bakketun (NO) lives and works in Oslo. Her work is mainly installation and video, where elements like text, rebuilt electronic devices, living organizms, nature forces and the audience in different ways are composed together. Using movement as an instrument, she stages situations where everyday objects and kinetic sculpture are the main actors. She weaves togheter different sources of symbols, such as science, psychology, magic and the laws of physics.
Bakketun has also initiated and curated the exhbition Five thousand generations of birds, in Fitjar on the west coast of Norway, together with Silje Linge Haaland.
Christian Tony Norum (NO) makes art in an surprising energetic and instinctive way. He says his studio is everywhere. If you had watched him working, it's just the most natural way to do it this way. He´s using history of abstract painting as almost innocent open source. Right, that's hard to imagine. Its not about referentialism or feeding art historians. So in his best paintings this former historical ideology feels like deleted or washed away by time and a brave attitude. So one can watch this formal visual vocabulary about the radical unutterable in an astonishing neutralized point of view.