Construction in Zhuangzi 1
Construction in Zhuangzi 2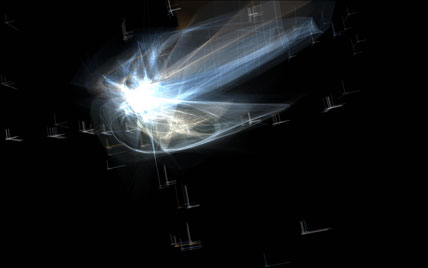 Construction in Zhuangzi 3
Construction in Zhuangzi is a simultaneous sonification and visualisation of a modified Lorenz dynamical system, a three-dimensional model of convection that is nonlinear, chaotic and sensitive to initial conditions. It is implemented in Max/MSP/Jitter.
A performance takes the form of an improvisation involving the modification of parameters of the dynamical system, these human interactions being indicated by momentary colour-inversions. The real-time, generative audiovisuals establish a perceptual feedback loop between the performer and the near-autonomous algorithm, or perhaps a duet/duel between these two elements due to the 'butterfly effect' and the emergent behaviour of the dynamical system.
Interesting results are obtained as audio, either as signal data in nonstandard synthesis or control data such as rhythm, pitch and panning (no pre-recorded samples or conventional oscillators are used apart from sine waves) and as OpenGL 3D visuals. Being representations of the same data source, coherence between these two domains are maintained without either being subservient to the other as it is neither the audio triggering the visuals nor vice versa as is often the case.
The outcome is an integrated audiovisual, real-time, generative, interactive, and improvised live performance.
Ryo Ikeshiro is a London-based electronic and acoustic musician working in the fields of audiovisual composition, improvisation, interactive installations, soundtracks and theory. He is currently studying for a PhD in studio composition at Goldsmiths College. Research interests include the use of dynamical systems and fractals in generative, emergent structures and nonstandard synthesis, punk/noise/glitch aesthetics and new forms of interaction and presentation of works.
He has presented work at: Noise vs Culture, Kent; Xenakis. La musique électroacoustique, Université Paris 8; PureGold Launch, Southbank Centre; Deleuze Philosophy Transdisciplinarity, London; Redsonic, London; Seeing Sound 2, Bath; Xenakis International Symposium 2011, London; CONTEMPORANEA 2011 Festival di Nuova Musica, Udine; ICMC10, New York; re:new 2010, Copenhagen. He is a member of ry-om and Genosong. As an events organiser, he runs a series entitled ABA. He is also a visiting tutor and runs workshops challenging preconceptions about music.
ryoikeshiro.com
VIDEO ART