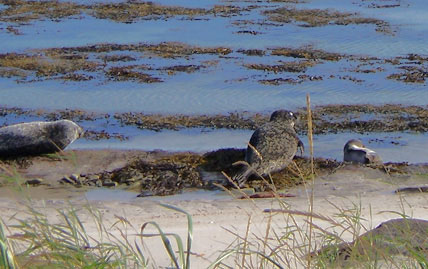 Lecture: Selkies, Shapeshifters and Sex: the supernatural in Scottish Ballads
This lecture will look at the unique and complex nature of the supernatural creatures and manifestations which inhabit traditional Scottish ballads in general and Orkney in particular and will evaluate their legacy in literature and song.
Dr Donna Heddle is Director of the interdisciplinary Centre for Nordic Studies at UHI based in Kirkwall, Orkney and Scalloway, Shetland. In terms of academic achievement, her undergraduate programme in Scottish Cultural Studies won a Times Higher Education Supplement award in 2005. She has also developed postgraduate programmes in Highlands and Islands Literature and Culture, Orkney and Shetland Studies, and Viking Studies.

With a particular passion for locative research – looking at communities from within and how they interact – her research interests also include: Scottish and Northern Isles cultural history; small island studies; language and literature and Old Norse. She is also the author of a number of publications in these areas and is currently leading several national and international research and cultural tourism projects involving the North Atlantic rim.

Dr Heddle is also chairwoman of the Modern Languages Association (MLA) International Scottish Studies Committee and has been involved in a number of Northern Periphery Programme (NPP) cultural projects involving technology and education. She has chaired six conferences, including the HIE/ Creative Scotland Old Maps and New - Where Culture and Social Enterprise Meet conference in November 2010, and is a popular keynote and invited speaker, and has 30 conference papers to her credit.
http://www.uhi.ac.uk/en/research-enterprise/cultural/centre-for-nordic-studies