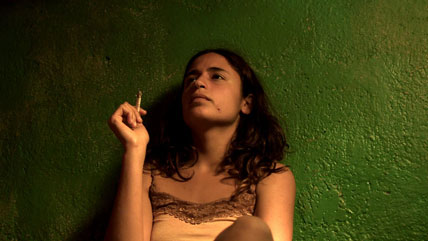 Paraísos Artificiales / Artificial Paradises
2011 / México / 83 min. / colour / HD
Paraísos Artificiales is a journey into the altered states of Luisa and Salomón, an evocation of their emotions, their attempts to escape from everyday life and reach an artificial Eden, as well as the storms brought on by their enjoyment of this experience.

Jicacal is a beautiful beach lined by the rainforest, a natural paradise located in the coast of Veracruz, Mexico. There the stories of Luisa and Salomón come across. She is a tourist from the city, a young woman who is dealing with her addiction to chiva (heroin). He is a 63 year old peasant and fisherman, as well as employee of the family that runs the roadside inn. Both, Luisa and Salomón, have found in drugs a way to ease their needs and worries, and in spite of their different backgrounds, they develop a peculiar friendship and share some deep experiences.
DIRECTOR'S NOTE
Human beings have always had the need and desire to ease our worries. One of the eldest practices we have turned to is intoxication; the experience of altering our consciousness in order to find peace, liberation and change, or to simply appreciate new hues of life which are normally neutralized by daily routine. At a personal level, I understand the love for intoxication as a way to come closer to paradise. Artificial Paradises tells about the encounter between two people that discovered in drugs a way to break free from a reality to which they feel anchored.
Through the encounter and mutual exchange of life stories between Luisa and Salomon, this film reflects on the natural need to search for those paradises which make us feel better, and the consequences this entails.
Awards:




Competencia Primer Corte, Ventana Sur 2010



Best Cinematography, Tribeca Film Festival 2011




Best Director, Santiago Festival Internacional de Cine 2011
YULENE OLAIZOLA
(Mexico City, 1983) Yulene graduated from the CCC in June 2009 receiving the Suma Cum Laude distinction for her documentary Shakespeare and Victor Hugo's Intimacies, which was finished in February 2008 and has been awarded in many festivals such as FICCO, BAFICI,Transilvania, Lima, San Sebastián, La Habana, IDFA, Fribourg, Navarra, Nashville, Miami and Montreal, among others.
Artificial Paradises is her first fiction feature film, and it was supported by Tribeca and Hubert Bals Fund.
www.paraisosartificialesfilm.com