Marianna Mørkøre & Rannvá Káradóttir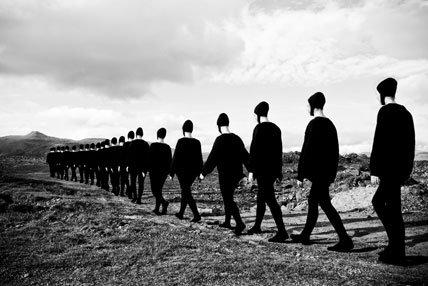 Still photographer: Katrin Svabo Bech
Magma
Year of production: 2010
Location: Faroe Islands
Original format: Super 8
Duration: 5.19 min
Screening format: Digibeta, Dvd, Quicktime
Aspect ratio: 4:3
Sound: Stereo
Release date: 16.09.2010
World premiere: Liverpool Biennial (UK)

Composer: Jens L. Thomesn

Cast
Armgarð Mortensen
Búi Rouch
Rakul Winther
Sadie S. V. Niclasen

Ásvør Lognberg
Birita Ingadóttir
Bjørg Ellendersen
Diana H. Hansen
Elin Jacobsen
Elsa Jacobsen
Frida Poulsen
Guðrið Helgadóttir í Gong
Gunn Reginsdóttir
Inga Maria Mikkelsen
Ingerð F. Jønsson
Jenny Viderø
Jóna J. Hvannastein
Julianna Mørkøre
Katrin Wardum
Lea Kampmann
Lea Vinther Árting
Maibritt Højgaard Johansen
Maria F. Arge
Poulina Poulsen
Simona Mikkelsen
Sissal Eyðfinnsdóttir
Sólja E. Hansen
Magma is the first film in a greater series of experimental short films
that embrace and discover movement through camera.
Cycle

8 is a Cycle of experimental short films that embrace and discover
movement through camera. The films are shot in the extreme and
wild landscapes of a remote group of islands far up in the North
Atlantic Ocean, the Faroe Islands.

Fragmented stories are unraveled in these open and empty spaces,
enhanced by the uncontrollable and extreme weather conditions that
have an important character in all the films.

Deprived from dialogues and narratives, the repetitive patterns
of movements, costumes, music, landscapes and other components
create an intriguing atmosphere that takes the viewer to a surrealistic
yet hauntingly beautiful universe.
www.rammatik.blogspot.com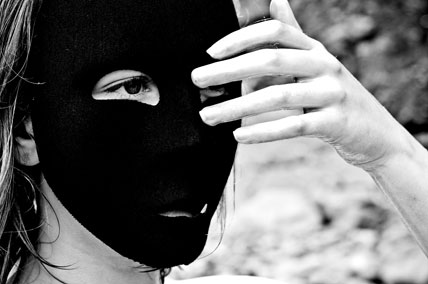 Still photographer: Katrin Svabo Bech
Mare

Year of production: 2011
Location: Goswick Northumberland
Original format: Super 8
Duration: 4.38 min
Screening format: Digibeta, Dvd, Quicktime
Aspect ratio: 4:3
Sound: Stereo
Release date: 23.09.2011

Composer: Thomas Garside

Cast
Anna Skelly
Charlotte Payn
Ellie Barrett
Erin Thorpe
Eve Dryden
Fionn Elliot
Laura Hutton
Lucinda Lawrie
Mare is an abstract take on climate change, embracing and discovering
movement through camera, commissioned by Northumberland County
Council in partnership with Berwick Film & Media Arts Festival, The
Maltings Theatre & Cinema, and funded by Arts Council England.
Facts
Northumberland has the largest length of coastline in the region at 131
km and has a high intrinsic tourism and nature conservation value, due
to its highly undeveloped and rural nature. It extends from Lamberton
to Seaton Sluice with much of the coastline undefended, giving it a
special natural value that is reflected in international, national, regional
and local nature conservation designations.
According to Sustaine's North East Climate Change Action Plan, climate
change will have a huge impact on the Northumberland Coast by 2050.
The overall aims of the collaboration
- Raise knowledge and awareness of climate change through the arts
within Northumberland
- Look at the impact of climate change on our local environment
- Involve and inspire young people in contemporary dance and film
making through the theme of climate change
Rammatik

A film duo consisting of Rannvá Káradóttir and Marianna Mørkøre.

Rannvá Káradóttir is a London-based artist and filmmaker. Since
graduating from London Contemporary Dance School she has emerged
as one of the most prominent performance directors on screen. Rannvá
started to use the film media for her practice early on and has developed
a distinctive movement vocabulary on screen, exploring dance in various
contexts and cross disciplinary works.

Marianna Mørkøre, filmmaker and illustrator, began her career during
fashion studies in London, especially interested in editing. Her constant
curiosity in challenging the traditional perception of moving image has
generated unique visual narratives that are marked by an experimental
approach and a personal voice - a methodology of intriguing imagery
determined to linger in your mind.
www.rammatik-mare.blogspot.com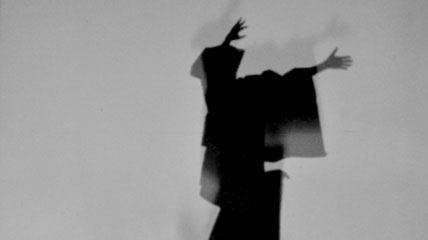 BOW (2010) 3:57m

Five artists from the UK. Belgium, Faroe Islands, China and Malaysia participated in a cross cultural exchange project motivated by notions of bowing; metaphorically, culturally and physically. The shadows, light and repetition in this short attempt to capture the birthing of movement ideas about folding and origami, rhythmic patterns and ritual during the studio process.
www.rannvakaradottir.blogspot.com