Leyla Rodriguez & Cristian Straub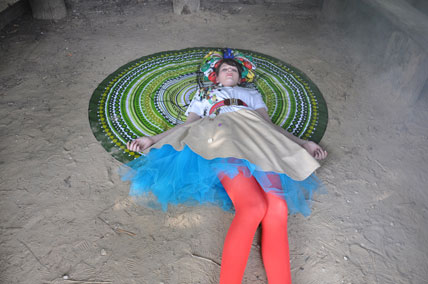 ISLE OF LOX: THE FRUITS ELECTRIC
HD, 16:9, Color, Stereo
"Isle of Lox" is a video series Project created by Leyla Rodriguez & Cristian Straub.

THE FRUITS ELECTRIC

A girl and "The Reflektor" are washed ashore a beach.
Strangely attracted by "The Flags" and uncanny sounds, she starts exploring the island she stranded on. When she picks The Fruits" from "The Tree" of sound she is instantly transposed to a mysterious house = "The Transformer". This is when she becomes aware of her transformation: she is now the keeper of the sound crown, she has become the fruits electric girl.

"In the beginning was sound"
The Fruits Electric borrows iconograpphy from very diverse sources to take us on a audiovisual journey of dicovery in the quest for the primordial origin of sound. The Greek myth of Aphrodite´s birth from the oceanic foam, the biblical passage of Eve and th forbidden apple or Grim´s fairy tale Hansel & Gretel, are references used to create an audiovisual experience that is at once intrigging and seductive.
LEYLA RODRIGUEZ *1975 in Villa Carlos Paz, Argentina. 1984 emigration to Germany. 1997-2004 Studies at the HAW University Of Applied Sciences Design Department Fashion (Diploma).
CRISTIAN STRAUB *1977 in Bucharest, Romania. 1987 emigration to Germany. 2000-2007 Film Studies (Diploma) At Hamburg Arts School in the class of R. Neumann and W. Wenders.
Artists/ Project/ web. Sites:
www.isleoflox.org
www.blog.leylarodriguez.de
www.cristianstraub.com
www.textiltaggx.org