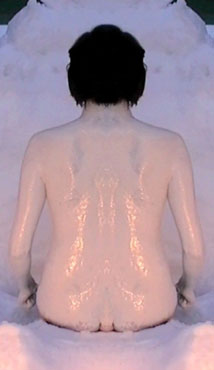 Fig.1
video installation
Using the medium of time, paint, sound and performance Aunstrup and Hafslund have constructed a visceral piece that investigates the figurative and conceptual relationship between the performing artist, the audience, the limits of the body, and the possibilities of the mind.? The removal of the paint from the body acts on Michaelangelos notion (originally noted by Alberti) that the art already exists and it is the artists job to release it. The endless struggle of man, imprisoned by matter, striving to attain ones unknown goal.? The line drawn on the back is a continual and mirrored, this allows the aesthetic engagement as the rorschach alleviates some of the philosophical pressure placed upon the experience. It allows each viewer to witness from within themselves how the piece exists- a woman/fox/cod head/deer/etc. Sense that talks to the mind/soul dichotomy. It creates a scene similar to that of an ethnical ritual, one we have never done but invited to lose ourselves within. When making something we are looking at something, when the landscape becomes the obstruction- the work turning in on yourself. The mirroring is a play on reflection it widens the torso and creates a tail, subhuman, frog like, using the bodies epidermal reaction and the superficial layers of black and white respond to the strokes of the tool creating line and tone, the back becomes a protoplasmic sculpture/canvas initiating a primordial and rhetoric piece.
Natalie Price-Hafslund (b.1987, Devon, UK) and Leonora Aunstrup (b.1983, Copenhagen, DK) studied at Central St Martins School of Art and Design, their collaboration involves Hafslund creating the visuals and Aunstrup designing the sound pieces, investigating ideas that reflect ones mental to the physical. Looking beyond the realms of the conscious and playing with behaviour, landscapes, urges and visual language; which result somewhere between the abstract and the figurative.

Recent exhibits include 'Ghost in the Machine' at The Others, London, 'I am not a Poet' at Total Kunst Gallery, Edinburgh UK and 'OK Flesh' at The Indonesian National Gallery, Jakarta.

They work between London, Oslo and Copenhagen.