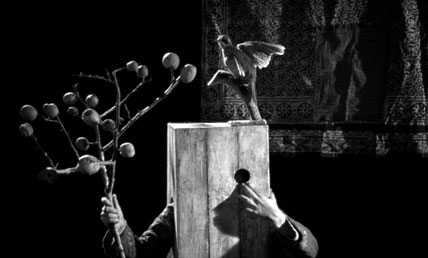 BORO IN THE BOX
40min, b&w, 2011
"My name is Walerian Borowczyk...
I'm dead polish filmmaker.
All my life I was locked in a box witha hole in it.."

From the day he was conceived to his cinematographic death, the portrayal of the fantasized filmmaker Walerian Borowczyk : Boro-in-his-box discovers a cruel and obscene world. He experiences banal yet colorful adventures, from Poland to Paris, caressing erotic birds and organic cameras in a phantasmagorical Alphabet.
Awards:




Great Prize "Cidade de Vila do Conde", 19th edition, June 2011, Curtas Vila do Conde, Portugal




Directors' Fortnight, 43rd edition, May 2011, Cannes, France
Bertrand Mandico born in Toulouse, 1971. He got his degree in directing from the Gobelin animation school in Paris. A draftsman and photographer as well as a filmmaker, it was obvious from an early age that he had a very personal imaginary, full of macabre black humor. His short films have been successfully screened in Annecy and Cannes.
www.coproductionoffice.eu

www.bertrandmandico.com