SKOGUL GONDUL (NO)
Video program initiated by Christian Tony Norum and Andrea Bakketun
Henrik Plenge Jakobsen (DK)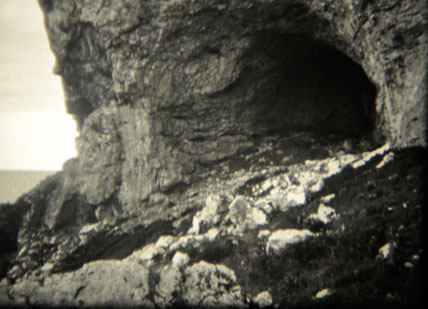 Littorina Littorea, Lilla Karlsö

One out of six 16 mm films, black and white
02:36", 2011
Performer: Suzette Gemzøe,
Cinematography: Manuel Alberto Claro

The Danish artist Henrik Plenge Jakobsen has created Littorina Littorea, that comprises six short films. These were shot on islands in the Baltic Sea, specifically on Bornholm and on Färö and Lille Karlsø near Gotland. The ragged coastal landscapes with their many cliffs form the backdrop for mysterious scenes that show people carrying out enigmatic actions that appear to be ritual in nature or to refer to some unknown mythological realm.

The footage was shot on 16mm film and cut in an analogue process. The films' actions and objects point back to Plenge Jakobsen's other body of work, in which the combination of performance and sculptural objects is a pivotal element. This is intermingled with references to film and art history with Northern European landscapes, Land Art, and early experimental films as obvious sources of inspiration.
Donkey and Punch (NO)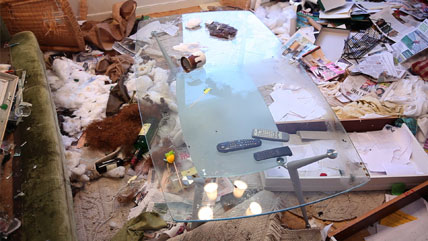 Rogue room, 29:00", 2011

Rouge Room is a story about two persons who demolish what appears to be a living room. Every single object in the room is systematically destroyed in a tranquil and restrained manner. The room will during the video reveal itself as a constructed scene in a outdoor environment. The video questions the necessarity and nature behind personal and materialistic destruction. We want to provoke how the perception of destruction may change by acceptance of the constructed.

Donkey & Punch is a collaboration between Kay Gaarder and Linda Lerseth
Institutt for degenerert kunst (NO)
Modellmakerne 04:42, 2011

Institutt for Degenerert kunst is a collaboration between Anders Nordby, Arild Tveito and Eirik Sæther
Eline Mugaas (NO), KimSu Theiler (USA), Cinzia Sarto (IT)
"disquiet"
(2011) 03' 16'' video by Cinzia Sarto, performance by Paolo Buggiani

This Street Art performance by Paolo Buggiani is part of a series called "metallic creature". A symbolic fish battle is consumed in a parallel reality, an allusion to the cruelty of war presented as an amusing game.
Place-Names: SKYE
©2013 KimSu Theiler
3:30 video with sound.

Some say the Isle of Skye got its name from Old Norse meaning cloud. The myth explicated in this video is the power of a child to stare a cloud into and out of existence.
Mugaas, Sarto and Theiler:
Although Eline Mugaas, Cinzia Sarto and KimSu Theiler attended the Cooper Union for the Advancement of Science and Art they did so not always occupy the location at the same time nor in the same place. However, they began and maintain to this day a conversation with each other around the themes of constructed spaces whether by architectural intervention or perceptual interpretation. The micro community they work in sustains the possibility for their work to not only connect each other through the discussion of art ideas but also reach out and enlarge the possibility for those ideas.
Petter Ballo (NO)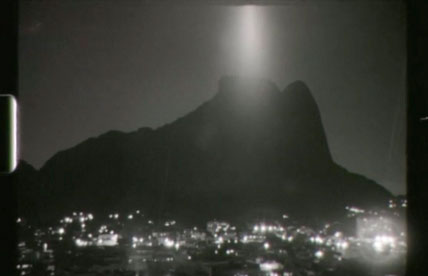 Largo Da Batata
03:14", 2012
8mm, black and white

8mm time-lapse filmed over two days in Rio De Janeiro.
My first stay in Rio, in 1999, when I was a scared backpacker in a hostel, later to return 2008 staying three months in an apartment hotel at the beach of luxurious Barra Da Tijuca, with the cream of soap-stars from Globo TV. It was great staying at the beach doing some art and pleasure, painting and drinking. I bought my first surfboard there and I almost drowned, but have been surfing ever since, and been surfing down the coast of Rio and Sao Paulo.
In Rio I always went with the buss 175, were the driver goes with his life and yours at stake. Like a roller coaster through hills and beaches. I would look out of the window up to the favelas with curiosity and jealousy. Imagine how it would be running around like the kids in Ciudad Deus. But I never had the chance, I get scared even to get close. Houses look so beautiful, the way this city is expanding without any rules and regulations. Only to be stopped at the end of the mountain. In the film you see the clouds passing over Pedra da Gavea "stone nest" and behind lays the biggest favela in Rio called Rocinha.
Andrea Bakketun (NO)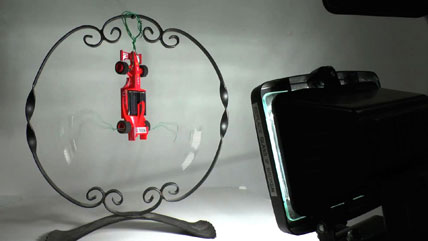 Run to catch up with the sun
03:30", 2013
Christian Tony Norum (NO)
Reflection of reflection, I´m living in history
02:18", 2013

A combination of a 35mm film showing degenerated art in Munich, 1937 (by Julien Bryen), a 8mm film from a performance in the Macro museum, Rome, 2012 (with Norum, Ballo and Lie), and a video from a performance at the Oslo autum exhibition 2012 (with Lomsdalen and Norum).

By conveying time
through the poetic dialogues
and at the same time
projecting and filming these series of events
in
the mirror
in 2013,
expositions of language
and augmented realities
could occur in 2014.
Silje Linge Haaland (NO)
A tribute to hands
05.11 - (originally looped)
2013