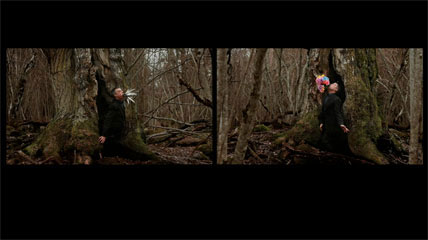 MAHAPRALAYA
2-channel diptych installation / 22min loop / 2013 - 2015


After spending 3 years on my previous project, The Tree, a work that had a very rigid process due to its collage/puzzle structure ,
I felt a real longing to work freely.
With no structure, just trust the flow of images as guide,
stay away from words, look at these moving images as its own language.

As a starting point I had one of these wonderful experiences,
melting into the forest floor, where your sense of self/ body started to drift further further away from the borders of my skin,
I tried to hold on to this sense of self (or no self ?).

It made me wonder if this is a logic step in
the evolution of human consciousness ?

Looking at the problematic relationship,
Hu-Man toHu-Man relations
compared to
Hu-Man to non Hu-Man
or
Hu-Man to Nature.
How to make platforms/experiences that encourage
this wider sense of identity ?

This was a starting point and the title,
(sanskrit=the great dissolution).

gb 2015
Gustaf Broms was born in Sweden in 1966. He currently lives and works in the Vendel forest. Gustaf's practice is engaged with the exploration of the nature of consciousness, the dualistic concept of "I", as the biological reality of being in the BODY, and being MIND, as the perceived experience of the flow of phenomena. In his practice, he started off working with photography and installation, but two works in particular led him to work with the more formless processes of performance. In 1991, Broms burned all of his work, and in doing so realized that the intensity of the action and the remaining ash far outdid anything he had previously made. In 2005, he completed a series of works entitled "5 Faiths for a Brave New World" in which he worked with objects that were physically too heavy for the body to move. These two experiences created a longing to explore the formless and led up to the project entitled "A Walking Piece" made with Trish Littler, in which the two artists spent 18 months walking across Eastern Europe. The result is considered a drawing. Currently, Broms' continues to work with a series of movements that look at concepts of inner/outer and movement/stillness, working with his own body as the tool for examining these processes. The constant question is, "why are the dancing atoms of this body not merging wit the dancing atoms surrounding it?"