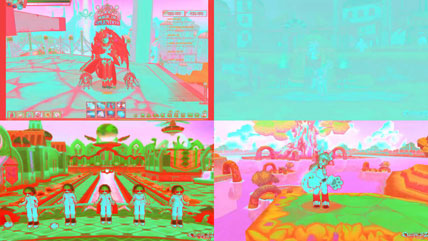 Pika! Ppeonjjeog, Pika! Ppeonjjeog / Ppiikkaa!! PPppeeoonnjjjjeeoogg


The video is part of a mixed-media installation developed during a residency at the Art and Creative Technology Center, Asia Culture Center, Gwangju, South Korea and is currently part of their inaugural exhibition.

"Pika!" and "ppeonjjeog" are onomatopoeia for flashing light in Japanese and Korean. They were used by the K-pop group Crayon Pop in Uh-ee for which the song was deemed unfit for broadcast by KBS which heavily restricts Japanese content. Various combinations of the example of "sound symbolism" for silent phenomena may be heard in each sound/light beam in the exhibition cell: "pika! ppeonjjeog" from the original, "ppeonjjeog ppeonjjeog" from a KBS-approved version which removed a "vestige of Japanese imperialism", and "pika! pika!" catering for the Japanese market and backlash against the "Korean Wave".

As well as being used in everyday speech to describe all manners of light and reflection, "pika!" also refers to the flash of light emitted from the nuclear bombs in Hiroshima and Nagasaki. The two words also aptly describe a growing number of art works from Asia where garish displays of flashing media are prevalent.

They are sung by Hatsune Miku, a sound bank from the singing voice synthesis software Vocaloid and a virtual idol claimed to be the most popular Japanese "singer" due to the volume of her output from her online user/fan base. She is viewed by some as a bastion of J-pop resistance against potential K-pop world domination e.g. in an unofficial survey for the singer that voters most wanted to see perform at the London Olympics, a campaign was launched for the eventual winner Miku to beat off competition from a hoard of K-pop acts.

The Risset rhythm or the eternal accelerando based on the Shepard tone is used. The effect is an aural illusion equivalent to Escher's Stairs whereby the pitch and speed appear to continually rise, and the repetitive wailing recalls "sound cannons" used for crowd control.

The video consists of found footage of Crayon Pop's dance routine performed using the MMORPG Elsword. Clips accompanying the words "pika! ppeonjjeog" are repeated, demonstrating the procedure in the sounds.

Onomatopoeia – words which phonetically imitate or resemble sounds – are especially common in Korean and Japanese. They range from the archaic to the latest creations by manga artists. There are also many onomatopoeia in both languages to describe phenomena which produce no sound e.g. how things look or feel and emotions. The rich practice of making the inaudible audible is one step further removed from the use of onomatopoeia in contemporary art as seen in the West e.g. by Christian Marclay.
Ryo Ikeshiro is a UK-based Japanese artist. His works range from live audiovisual performances and interactive installations to generative music pieces and scored compositions. He has presented his works internationally at media art and music festivals, as well as at academic conferences. His works have been released on the digital platform s[edition] and he is featured in the Electronic Music volume of the Cambridge Introductions to Music series. He was originally trained as a classical musician, but then branched out into electronic music and other genres.

His practice-based research at Goldsmiths involves "live audiovisualisation", where the same data and process produce both the audio and the visuals in real-time, without either one following the other – as seen in most VJ performances and visualisations. Emergent systems are used as basis for creating custom-made programs to generate sound and moving image. These could be compared to instruments or machines which are chaotic and unpredictable. In performance, he attempts to understand and control both of these components in a duet or duel.

He curates exhibitions, screenings, and a series of events called A-B-A featuring performances, talks, and discussions. His articles have been published in journals such as Organised Sound.
ryoikeshiro.com