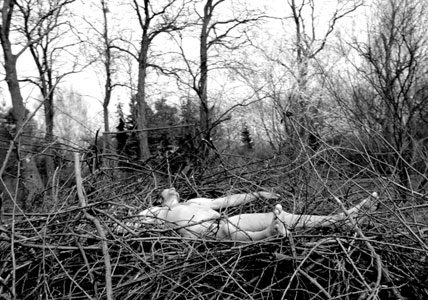 Second Circel 2014


Second circle is a video that I worked with over a period of residence in Berlin in 2014. This work has grown out of my thoughts about myself, who am I and why I am . And deals with questions concerning identities, masculinity, individuality and humanity.

The sound in the work is also from a new project called "See with ears", developed during a the same residency in Berlin, I focus on sound and sound recordings from public spaces and public art. I'm interested in places people are passing without paying attention to the atmosphere and the energy that the places and sculptures can radiate. If we explore, listen and give time to the different spaces we are able to create new rooms and experiences.
Using different microphones I record ambient sound as well as specific sounds generated from the public sculptures and objects. The sounds are mixed, sampled and distorted to minimalist sound and musical works.

video footage
Stina Pehrsdotter
Julian van Grey
Niclas Hallberg
Niclas Hallberg works in video, photo, installation and performance. His experimental works deals with questions concerning identities, masculinity and humanity. He is using the moving picture to express feelings, create inpressions and document performances.

He often uses himself as an instrument and actor and hereby he creates a feeling of intimacy and individuality.

Niclas Hallberg has participated in a great number of solo and group exhibitions in Sweden and abroad. He has long experience of arranging and leading workshops in a varity of creative contexts.

Niclas Hallberg is engaged in several international art projects focused on collaborational exchanges resulting in exhibitions, video-screenings and residencies around the world.

Niclas Hallberg founded Formverk (art zone) 2004, an independent project-based exhibition association,
together with Stina Pehrsdotter.
niclashallberg.se